Wigtown book festival 'generated £3m'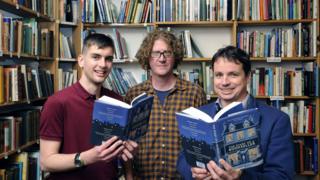 Organisers have said the Wigtown Book Festival generated an estimated £3m for the Scottish economy this year.
They described the 10-day event which drew to a close at the weekend as the "most successful ever".
Artistic director Adrian Turpin said the audiences it had attracted spoke volumes about the "quality of the event" and people's love of literature.
He said it also provided a source of income for local businesses at a time which might otherwise be quiet.
The book festival ran from 22 September to 1 October this year with appearances from Judy Murray, Chris Brookmyre and Gavin Esler among others.
One of the biggest hits was the launch of The Diary of a Bookseller, by Shaun Bythell, who runs The Bookshop in Wigtown.
'Unmissable events'
The economic impact of close to £3m is based on growing ticket sales and evidence that visitors are spending longer in Dumfries and Galloway during the festival.
Adam Wilson, Dumfries and Galloway Council's events champion, said: "It is the cultural excellence and vitality of the book festival that each year encourages so many people to travel to Wigtown.
"The whole thrust of the council's major festivals and events strategy is to support the creation of unmissable cultural and sporting events that draw people into our beautiful region.
"The visitor numbers for the festival are fantastic this year, and testimony to the very hard work of the festival company, the bookshop owners and all the festival volunteers.
"The economic value of the event is incredibly important to the area and a compelling reason for the council's financial support."