Ae, Garlieston and Kirkbean school closure consultation draws to an end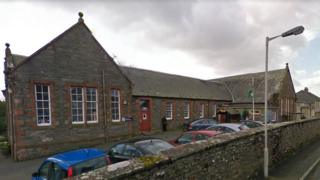 The deadline has passed for public views on proposals to shut three rural primaries in southern Scotland.
The consultation on the fate of schools in Ae, Garlieston and Kirkbean came to an end at 17:00 on Tuesday.
The proposals have provoked parent-led campaigns against the moves and SNP MSP Joan McAlpine said they would have a "devastating impact on the community".
When consultation began the three schools had 37 pupils in total with a combined capacity of nearly 200.
If the closures are given the go-ahead, the primaries could shut by July next year.
'Rightly angry'
Dumfries and Galloway Council's education committee agreed last year that officers should engage with schools where the pupil roll had fallen below 50% of capacity.
It said the process would serve to "identify and rationalise" the use of its buildings.
However, Ms McAlpine said she would fight the closures "every step of the way".
"The strength of feeling in Ae and Kirkbean in support of their school is palpable, and I have been impressed with how the communities have come together to fight these proposals," she said.
"Parents are rightly angry that the council is putting the future of their communities and their children's education at risk, particularly since there have been so many flaws in the consultation process."
'Detrimental effect'
Galloway and West Dumfries Conservative MSP Finlay Carson also expressed his support for keeping the schools open.
"Without a school in Garlieston or Kirkbean young families are much more likely to move from the area, which would have a hugely detrimental effect on these communities," he said.
"I do not believe that Dumfries and Galloway Council have fully explored all of the options open to them to make these schools sustainable.
"I fully support the parents, teachers and local communities of Garlieston and Kirkbean in their efforts to ensure that neither of these fantastic schools close their doors."