£175m Dumfries and Galloway electricity upgrade 'well on track'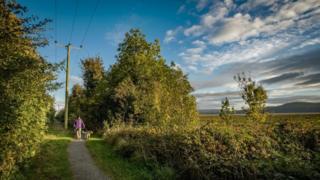 The first phase of a £175m eight-year electricity supply upgrade in Dumfries and Galloway is "well on track" according to SP Energy Networks.
Initial work has seen £20m spent in the region this year alone.
An overhead line network upgrade, substation refurbishment and new connection work have been completed.
The company said the investment had gone a "long way" to keeping power and lights on at the region's 85,000 homes and businesses.
It highlighted a number of other projects including:
£1.82m on the rebuild of the main power line from Newton Stewart to Sorbie
A £2.5m refurbishment of the main substation in Dumfries
The installation of modern equipment to reduce network faults
Iain Steele, district general manager for Dumfries at SP Energy Networks, said: "We're committed to maintaining and improving the electricity network for everyone in Dumfries and Galloway.
"As with all works on the network, our teams always engage with customers beforehand whether it be in community meetings, doorstep conversations or letters."
He added that care plans could be put in place for vulnerable customers or people with specific needs who required additional support during a power cut.