Loch Arthur Creamery cheese recall over allergy concerns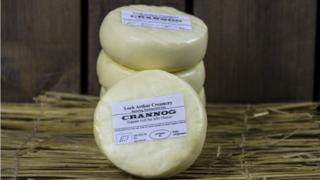 Three types of cheese produced by a creamery near Dumfries are being recalled over allergy concerns.
Food Standards Scotland said the Loch Arthur Creamery cheeses contain celery which is not included on labels.
The products are Crannog with mixed herbs, Crannog with green peppercorns and Crannog with chives, all pack size 200-250g, with a use by date up to, and including, 15/11/2017.
Anyone with an allergy to celery should not eat the cheese.
The products should be returned to the stores where they were bought where full refunds will be given.