Borders General Hospital nutritional care action sought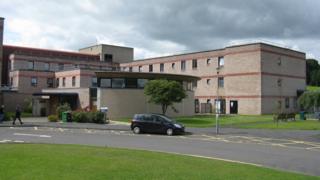 A string of improvements in nutritional care for older people is being sought at the Borders General Hospital.
An unannounced inspection of the site near Melrose in June found national standards for safe and effective patient care were not being met.
Healthcare Improvement Scotland (HIS) outlined 10 areas where it wanted to see action and four of good practice.
NHS Borders said some changes had already been made and an action plan would tackle other improvement areas.
One patient at Borders General Hospital lost more than 10% of their body weight in 17 days, and was scored as being at "high risk of malnutrition", HIS said.
It noted areas where the hospital was performing well and also areas for improvement, including:
Positive patient feedback relating to food quality and choices
Flexible approach taken by kitchen staff in trying to meet patient needs/requests
A lack of governance and leadership for nutritional care meant that national standards for safe and effective patient care are not being met
A lack of training to provide the knowledge and skills required to meet patients' food, fluid and nutritional care needs
Senior inspector Ian Smith said the HIS expected NHS Borders to address all the areas for improvement identified.
Analysis: Shelley Jofre, BBC Scotland health correspondent
The problems identified at Borders General are not new, which makes today's findings all the more concerning. They stretch back five years to a previous critical HIS inspection report in July 2012. That highlighted failings in delivering person-centred care and recommended improvements.
More than two years later, the Scottish Public Services Ombudsman recommended in December 2015 that NHS Borders review nursing care and leadership in the hospital after a complaint there was upheld. The daughter of an elderly patient with dementia said her mum was not helped with personal care or eating or drinking during her stay.
Then, in August last year, another HIS review of the care of older people at the hospital; yet again a call for the hospital to improve its management of nutritional care.
Against the backdrop of all the previous warnings, these new criticisms following June's unannounced HIS inspection couldn't be more serious.
Anyone who's had an elderly relative in hospital will recognise the worry that hard-pressed nurses may not spend the necessary time helping frail patients to eat. The rapid weight loss inspectors noted in three elderly patients, along with incomplete records, shows lessons still need to be learned.
For its part, Borders General says it has launched a 'Back to Basics' programme to ensure nursing staff have more time to provide the sort of care that's particularly important to maintain the dignity of patients nearing the end of lives.
The health board's medical director, Dr Cliff Sharp, said it acknowledged and accepted the findings of the report.
He commended staff for the positive findings and said a plan had been put in place to address the issues highlighted.
A "back to basics" programme has also been launched to ensure all improvements are "embedded and sustained".
Meanwhile, a separate inspection has found health and social care services in the Scottish Borders are delivering "some positive outcomes" for older people but also have "key weaknesses".
The inspection was carried out between October 2016 and February 2017 by the Care Inspectorate and HIS.
Across nine key indicators, one was found to be "good", five "adequate" and three "weak".
Scottish Borders Health and Social Care Partnership said progress had been made since the time of the inspection and other areas were being targeted for improvement.
Tracey Logan, chief executive of Scottish Borders Council, said the authority found it "difficult to understand" why the "excellent work" of staff had not been "as positively reflected as it might have been".
"We shall continue to work with the inspectors to finalise our action plan, which is the consolidation of a range of plans which the partnership has in place, and assist them as they revisit our services over the next year," she added.