Wigtown holiday bookshop could branch out to Asia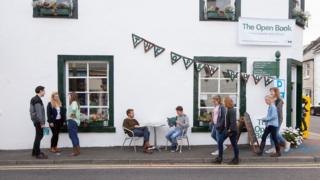 A bookshop where people pay to run the business while living above it for a fortnight could be branching out into Asia.
The Open Book in Wigtown is fully booked until 2020 and has attracted interest from a Chinese firm.
It could see the company opening its own version of the successful Dumfries and Galloway business.
Creator Jessica Fox said she had been "overwhelmed" by the success of the concept.
She will tell the story of the business at the InnovateLiterature event organised by VisitScotland as part of this year's Wigtown Book Festival.
Ms Fox moved to Wigtown nine years ago while working as a storyteller for space agency NASA in California to pursue her dream to "work in a Scottish bookshop by the sea".
A quick internet search threw up The Bookshop in Wigtown - owned by Shaun Bythell - and, within a few months, she had left Pasadena to start a new life in Dumfries and Galloway.
'Unique place'
She said: "It sounds like a romantic comedy, but I kept dreaming of working in a bookshop by the sea.
"I could see it as clear as day - right down to the rain outside."
She described Wigtown as an "amazing, unique place".
"I thought, 'I'm sure I'm not the only crazy American out there who'd love to run a bookshop' and that's how The Open Book was born," she explained.
"People book through Airbnb and we've been overwhelmed by its success.
"I'm looking forward to sharing my story at InnovateLiterature."
Fiona MacKinnon, business events manager at VisitScotland and chair of the panel discussion, said the event was a chance for industry to hear "compelling stories and to engage with literature in Scotland".