Political clash over fate of DG One centre in Dumfries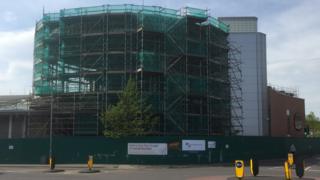 A political dispute has erupted over plans to continue a £10m repairs project on a leisure centre which is already at least £3m over budget.
The ruling Labour/SNP administration on Dumfries and Galloway Council has agreed to proceed with the scheme.
It will also carry out an inquiry into construction flaws at DG One in Dumfries, at a cost of about £250,000.
However, Conservative MSP Oliver Mundell suggested it would be better to bulldoze the building and start again.
The council administration promised the refurbished building would provide a "top-class leisure facility" for the region.
Leader Elaine Murray said she was aware it was a "large financial commitment" but said any alternatives would also carry "significant financial cost".
She added that financial detail and updates on the project would be reported to council political group leaders on a monthly basis and reported to full council for approval.
Depute leader Rob Davidson added: "Nobody wanted to be in this situation but we need to have a way forward that sees DG One back open.
"When it was built, DG One was our region's flagship facility and we are committed to making it that flagship facility again."
Mr Mundell said the decision to "plough on" showed the administration had "lost the plot".
"The current site should be bulldozed before it falls down and the whole project should start again on a different site," he said.
"Not only would that likely end up being cheaper but it would draw a line under this whole sorry saga."
'Gravely concerned'
He said it was "even more astonishing" the decision had been made before the inquiry had started.
"Many people will be wondering what the point of spending hundreds of thousands of pounds on an inquiry is when councillors won't even wait to learn from their mistakes," he said.
Ms Murray described the "complete reversal" of the Conservative position as "astounding".
She said all council members were "gravely concerned" at the amount DG One had cost over the years.
However, she said the administration was determined to provide a "high-quality facility" on the site while the Conservatives seemed ready to "throw in the towel".