Dumfries level crossing crash van forced train to brake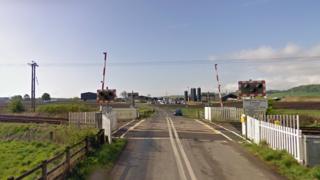 A motorist has been fined after his van hit a level crossing barrier, forcing a train driver to use his emergency braking system to avoid a crash.
James O'Brien, 21, of Dumfries, admitted careless driving and failing to comply with warning signals.
He claimed he had been blinded by the sun when he committed the offence in January this year.
He was fined £300 and had six points endorsed on his licence at Dumfries Sheriff Court.
The court heard how the train had managed to avoid any debris, but the line had to be closed for a period while it was checked out.
'Two bangs'
Fiscal depute Alison Herald said the large white van had been seen passing the window of a house near the crossing at 09:00 and the audio alarm went off and then a bang was heard followed by another bang.
Meanwhile, the driver of a train about 400 yards away saw the van approach the crossing and put on the brakes as it went over the lines and hit the barrier, but managed to avoid any collision.
Solicitor Carolyn Priestley said O'Brien used the crossing regularly and on the morning in question was driving into the sun and did not see the red light.
He could not explain, however, how he had not heard the audio alarm.
She added that the van was well clear before the train reached the crossing.
O'Brien had later telephoned the police himself and reported the incident.