Newcastleton begins petrol pump return mission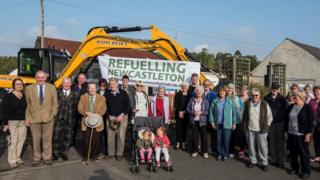 A small Borders village has started a community project to bring back petrol pumps which shut eight years ago.
Newcastleton residents have estimated the average extra cost per household to get fuel for their vehicles since they closed has been about £300 a year.
They set up a community trust two years ago and last year bought the original petrol station site.
A fundraising project has now allowed demolition work to start, paving the way for the return of the fuel pumps.
The village, with a population of about 750, is about 10 miles from the nearest petrol station in Langholm with another about 14 miles away in Kielder.
However, research by Newcastleton and District Community Trust found most people travelled to Hawick or Carlisle for their fuel - particularly in winter - which are both more than 20 miles away.
The community-owned forecourt will host unmanned pumps and electric vehicle charging points and it is hoped it can be completed early next year.
Ian Jarvie, of BCCF Environmental, who awarded more than £30,000 towards the scheme, said it had been pleased to provide support.
"It is an exciting project and one that will bring huge benefits to the community of Newcastleton and the surrounding hinterland," he said.
"We wish them every success in their new community venture."
Steve Hartley, who chairs NDCT, said it marked a "new page" in the village's history.
He said it was the start of a series of projects that the trust hoped would regenerate the area.
'Reap the rewards'
"The fuel pumps will ensure that the village once again becomes a hub for the wider hinterland as well as the community," he said.
"Our shops, cafes and pubs will all reap the rewards.
"We are all looking forward to seeing the demise of the old derelict eyesore and a brand-new fuel forecourt in its stead, the next few months will see that come to fruition."
He thanked everyone who had backed the project, including the Big Lottery Fund, Scottish Enterprise Rural Fuel Fund, BCCF Environmental, Transport Scotland, Scottish Borders Council and local voluntary organisations.
"We still have a way to go to achieve this milestone but are confident that once the site is operational everyone in our community will benefit," he added.