Lambs' ears ripped off in farm attack near Hawick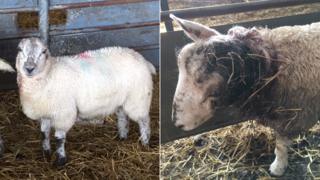 Four lambs have suffered "brutal injuries" in a suspected attack by a dog in the Scottish Borders.
The incident happened on a farm near Acreknowe Reservoir, near Hawick, between Thursday and Friday evening.
The four lambs suffered serious head wounds with three of them having both ears ripped off.
PC Claire White said it was believed a dog or dogs had attacked the animals and urged anyone with information to contact them.
"These animals suffered brutal injuries and, once again, we're urging dog walkers to always keep their pets on leads around any livestock," she said.
"All animals are unpredictable and it's a dog's natural instinct to chase - it is your responsibility as the owner to ensure that your dog is kept under suitable control at all times.
"As well as causing significant harm to these animals and distress to the farmer, you are liable to prosecution if you fail to do so."