Health and Safety Executive will not investigate DG One flaws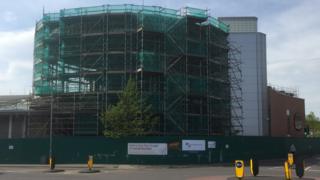 The Health and Safety Executive will not be investigating construction flaws at a leisure centre in Dumfries.
Dumfries and Galloway Council had approached them with concerns over its flagship DG One facility.
Earlier this year the local authority announced plans for an independent inquiry with repairs set to run at least £3m over their £10m budget.
However, the HSE has confirmed in a statement that it will not be looking into the situation.
"HSE does not generally investigate issues of poor workmanship where the work activity is complete," it said.
"We will not ordinarily consider investigations except in cases where death or serious injury has occurred.
"In addition, a significant length of time has now elapsed since the original construction work took place, thus significantly hampering any effort to gather evidence."
'Absolutely shocking'
DG One opened in 2008 but a string of problems led to its complete closure in 2014.
A long-running legal wrangle meant it took nearly two years before the council reached a settlement with original contractors to allow the current repairs programme to begin with a different firm.
It has unearthed further problems which council leader Elaine Murray described as "absolutely shocking".
Councillors decided in July to continue the repairs programme despite seeing the costs rise significantly.
They will be given an update on the situation on 26 September and the local authority has declined to comment further ahead of that meeting.