Dumfries water rescue unit launched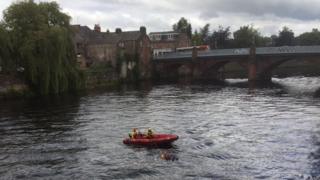 A new water rescue unit has been launched in Dumfries to help step up emergency responses in the region.
Local Senior Officer Hamish McGhie said it was "great news" in helping to tackle incidents on the rivers and lochs of the area.
The unit - relocated from Annan - is the 20th of its kind in Scotland.
The Scottish Fire and Rescue Service said it would allow it to be prepared for increasing instances of "extreme weather-related flooding".
The unit was put through its paces on the River Nith in Dumfries as part of the official launch.
Mr McGhie said the dedicated water rescue team could make a big difference to the response that could be provided.
Changing role
"We are a rural area with lots of rivers, lots of lochs and lakes," he said.
"We now have a water rescue team in Dumfries, we have one established in Newton Stewart and between them we have got great coverage for the whole of the area."
He said it was part of the changing role of firefighters.
"Historically we are known as a fire service but more and more we are becoming increasingly involved in other related rescues - water being one of them.
"We are now able to go in and actually rescue people from lochs and rivers - and they invariably do get into trouble although we try to educate them otherwise.
"Water is very enticing - so when people do get into difficulty we will be there and we have now got the assets to save them."