Warning over 'chicken' game on busy Dumfries road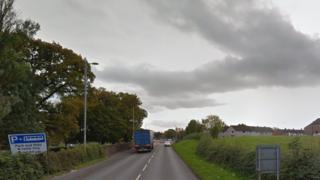 Police in Dumfries have said they are working with schools to avoid the "tragic consequences" of youngsters playing "chicken" on busy roads.
They said they were aware of "pockets" of cases between Lochside and Lincluden and at Locharbriggs.
Ch Insp Stephen Stiff said that regardless of the speed of the vehicle involved it could cause serious injury.
He said officers were liaising with schools in order to highlight the risks involved.
"We are linking in with head teachers to try and make sure those safety messages are being rolled out within the schools," he said.
"The last thing we want to do is have a youngster knocked over on our roads.
"We will continue to make sure we are being as pro-active as we can to make sure that that safety message is out there."
Dumfries and Galloway councillor Jeff Leaver said he had been made aware of problems in the Locharbriggs area.
He said children needed to know what the consequences of the game could be.
"From their point of view it might be a bit of fun but from their family's point of view it could be an absolute tragedy," he said.