Boats make daring River Nith 'raid' on Dumfries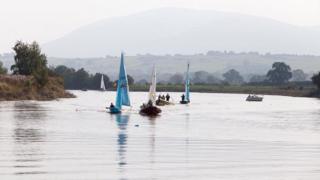 A daring river "raid" on Dumfries has been carried out in celebration of the town's trade links.
Boats raced their way up the River Nith to the heart of the town on one of the highest tides of the year.
It was the fifth edition of the Nithraid event - a celebration which takes place on and around the river.
As well as the boat race, a range of entertainment included a procession through the town and events continuing into the evening.
Project manager Sal Cuddihy said: "It's an exciting year for Nithraid with some great new additions to the festival; our friends the Vikings are coming to liven up the banks of the Mill Green with re-enactments and combat displays.
"For the first time, we will be continuing the festivities into the evening with some live entertainment in a relaxed atmosphere.
"It's an exciting project to be a part of, and we hope plenty of people come along to get involved and cheer on the sailors."
The celebration is created and produced by local artists group The Stove Network.