Second anniversary of Borders Railway marked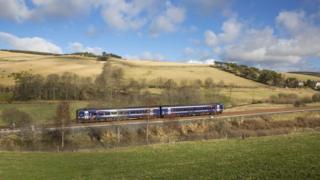 The Borders Railway has reached the second anniversary of its official opening by the Queen.
More than 2.6m people have travelled on the 31-mile route between Tweedbank and Edinburgh.
VisitScotland said it had had a "massive impact" on the local economy and brought in new visitors.
There have been repeated calls for the line to be extended to Carlisle and a transport study is currently looking at the feasibility of that work.
Two years of the Borders Railway
2.6m
People have used the railway since opening
40,000
Estimated car journeys saved annually
10.6% Increase in visitors to Abbotsford House near Melrose

65% Visitors using the railway saying it was a factor in their decision to make their trip

8% Tourism employment increase in the Borders
Dougie Johnston
Riddell Graham, director of partnerships at VisitScotland, said: "From the momentous reopening of the historic route by the Queen to this summer's unique steam train opportunity, the Borders Railway has well and truly captured the attention of the world's media.
"We want to ensure that the spotlight continues to shine on the regions surrounding the Borders Railway and the next phase of our international marketing campaign will focus on inspiring overseas visitors from Canada and Germany to make the trip.
"Scotland's reputation as a quality destination relies on continued investment and innovation to ensure the current provision meets future demand, and the success of the Borders Railway shows just how important this is."
Lindley Kirkpatrick, head of ScotRail's Borders Railway programme, described the route as an "extraordinary success".
"Each and every day thousands of people are travelling to and from the region for work, to study and to catch up with friends and family," he said.
"It has also really opened up this most beautiful part our country to the tourism market that is so important for our country.
"Businesses are thriving, communities are being strengthened and opportunities are being opened up for people young and old."
He said passenger numbers had been "really impressive" but they would be looking at more ways to support the line.
'Emerging opportunities'
Danny Cusick, director of tourism at Scottish Enterprise, said the railway was "fast becoming one of Scotland's most loved tourist attractions".
He added that partnership work would continue to drive forward "new and emerging opportunities for economic development in the region".
However, there have been some criticisms of the project over its two years in operation.
The number of services cancelled or delayed and the quality of trains being used has been highlighted as a problem.
Campaigners have also made repeated calls for the line to be extended beyond Tweedbank and on to Carlisle.
A transport study is currently examining the feasibility of such a project as part of a wider look at transport issues in the Borders.