NFU Scotland fears over immigration proposals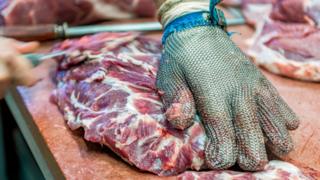 Fears have been raised for the impact on Scottish farming if moves to cut numbers of low-skilled migrant workers proceed when Britain leaves the EU.
A leaked draft plan from the Home Office would require firms to strive to recruit locally.
NFU Scotland President Andrew McCornick who farms near Dumfries said he wanted to see more detail of the plans.
However, he warned that any sudden cut in EU worker numbers could have major consequences for food producers.
Under the draft plan, leaked to the Guardian, firms would have to recruit locally unless they could prove an "economic need" to employ EU citizens.
Low-skilled migrants would be offered residency for a maximum of two years while those in "high-skilled occupations" would be granted permits to work for a longer period of three to five years.
Mr McCornick said that if such measures went ahead they could have a big impact on farming.
'Enjoy the job'
"A lot of our lamb, a lot of our beef is going away to abattoirs outwith Dumfries and Galloway," he said.
"I was in one in Stirling last November and about 80% of the work force in there was not local, was sourced outwith the UK.
"If these people aren't there to do the processing there is not a market going to be able to deal with what we are producing."
He said that many of the workers ended up staying longer than they originally intended.
"A lot of them come across as seasonal workers but then it develops into something longer," he said.
"If they enjoy the job, they are getting well paid and they are fitting in well into what is going on round about them a lot of them will stay on."
He said it was important to know how the proposals might actually work in practice to see if they would allow that to happen in future.