Sex offender Arthur Warwick guilty of Scottish charges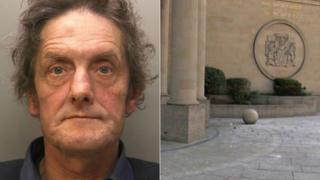 A man who is serving a life sentence in England has been convicted of raping one girl and sexually abusing two others in Scotland.
Arthur Warwick, 59, was found guilty of the offences committed between 2004 and 2010 and jailed for seven years.
He raped a 15-year-old girl and sexually abused a 13-year-old and a 10-year-old at a house in Dumfriesshire.
He met the children when he visited family friends in the area from his Cumbrian home.
In evidence, Warwick had denied any sexual contact with the three girls and claimed they were making it up.
'Significant danger'
Prosecutor Lisa Gillespie told the High Court in Glasgow: "The accused is currently serving a life sentence for sexual offences against children in England between 1975 to 2016.
"We are dealing with the Scottish complainers in the case which was investigated by Cumbria Police."
The court heard that the Crown Prosecution Service in England declined to prosecute these offences and left it up to the Crown Office in Scotland to do so.
Judge Johanna Johnston QC told Warwick that his sentence would run alongside his English one.
She added: "The court in England took the view that you pose a significant danger to young children.
"It might have been better to deal with all the offences together at the same time."
'Incalculable harm'
Judge Johnston placed Warwick on the sex offenders' register.
Defence QC Thomas Ross said: "It will be March 2029 before Mr Warwick can even be considered for parole in England.
"He will be 72 then. In fact he may spend the rest of his days behind bars.
"These Scottish offences will be taken into account by the parole board."
In England last year Warwick admitted 30 separate offences dating back to the mid-1970s.
Carlisle Crown Court heard he offered sweets and cigarettes to the children as "inducements".
The judge sentenced Warwick to life imprisonment with a minimum term of 13 years, and said he had caused "incalculable harm".
Warwick's offences came to light after a police sting which caught him arranging to meet a child for sex.