Kelso ram auction eyes up £3m record sale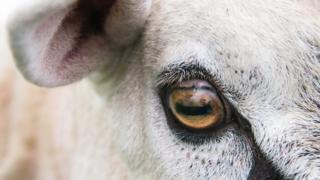 Organisers of Europe's largest one-day ram sale in the Scottish Borders are hoping to break the £3m barrier.
Last year total sales at Springwood Park in Kelso fell just £62,000 short of that target.
This time around nearly 5,500 tups went under the hammer - an increase of 266 on 2016.
The event, staged by the Border Union Agricultural Society, was first held in 1836 and draws sellers from throughout the United Kingdom.
This year was a particularly special one for BUAS secretary Ron Wilson as it is final time in charge as he is set to retire.
'Great challenge'
"As secretary I ring the bell at 10 o'clock to start the sale and we have 16 rings selling consecutively," he said.
"Everyone tries to vie to sell the first tup.
"And then, depending how many are in the ring, it just carries on until it is all finished."
He said that he had hugely enjoyed being part of the event down the years.
"There is a great challenge, the whole thing happens in about a month - from the entries coming in to the actual sales," he said.
"There is a great buzz about the whole thing and I certainly will miss the ram sales."