Detectorists star Mackenzie Crook checks out Galloway hoard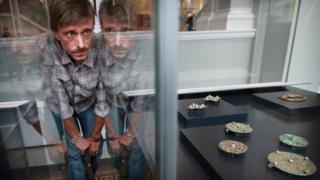 The writer and star of the TV series Detectorists has seen one of Scotland's most significant finds first hand.
Mackenzie Crook was in Edinburgh for a premiere screening of the first episode of the third series of the show.
He stopped in at the National Museum of Scotland to see the Viking treasure hoard discovered by a metal detectorist in Galloway in 2014.
He said it was "amazing" to see the items and backed a fundraising campaign to provide them with a permanent home.
"It's one of the most spectacular detecting finds ever made, beautiful objects in fantastic condition," he said.
"I was also really interested to learn about what happens after a find is made and reported.
"The work that National Museums Scotland are aiming to do to research and conserve the hoard is fascinating and really important to understanding this period of Scottish and British history, so it's crucial that they can raise the funds to acquire it permanently."
'Senses exploded'
NMS has until 12 November to raise the £1.98m required to acquire the hoard.
Metal detectorist Derek McLennan, from Ayrshire, discovered the items in Dumfries and Galloway.
"I unearthed the first piece, initially I didn't understand what I had found because I thought it was a silver spoon and then I turned it over and wiped my thumb across it and I saw the Saltire-type of design and knew instantly it was Viking," he said at the time.
"Then my senses exploded, I went into shock, endorphins flooded my system and away I went stumbling towards my colleagues waving it in the air."