Social media sex offence concern raised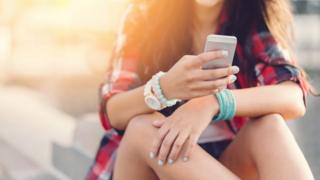 Police have raised concern at a rise in young people potentially falling victim to sexual offences linked to social media and mobile phone apps.
Dumfriesshire area commander Ch Insp Stephen Stiff said the trend was not immediately apparent in the latest local figures for indecency.
However, he said they were dealing with more cyber crimes or communication offences with a sexual element.
Ch Insp Stiff said the issue was "very concerning" given the risks involved.
"Some of the offences that might take place are perhaps about name-calling or bullying but a growing percentage of those crimes, sadly, are involving a sexual element," he said.
'Peer pressure'
He said that some involved the sharing of intimate images which was of "great concern".
"We are working very closely with other agencies and education through schools to try and make sure that youngsters are aware," he said.
He said they were also reaching out to parents to ensure their children were using their mobile phones safely.
"Our message is to the youngsters, be aware, be cautious - don't get sucked into that type of peer pressure where you are being encouraged to share images of yourself," he said.
"Because once it is out there and on the social network, if you like, it will never go away."