Protected goosander shot on River Tweed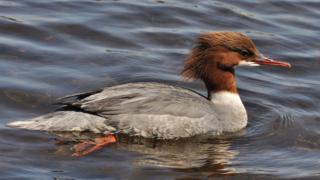 A protected bird has been shot in an incident on the River Tweed in the Borders.
Police were alerted at about 11:15 on Thursday and a dead goosander was found in the water east of the chain bridge at Melrose.
A member of the public had heard shots being fired in the area.
Wildlife crime officer PC Andy Loughlin said police took such incidents "very seriously" and said it was a criminal offence to harm protected species.
He added: "This is a very popular area for walkers and dog walkers in particular.
"I'm keen to speak to anyone who was in the area last Thursday morning and may have seen or heard something which may assist the investigation."