Paedophile who recorded abuse of young girls is jailed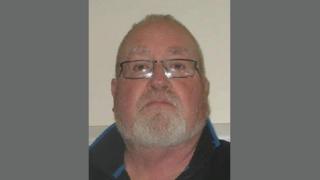 A paedophile who recorded his abuse of young girls has been jailed for more than 10 years.
Andrew Fraser, 64, formerly of Annan, filmed and photographed some of the offences, which police found among a hoard of indecent images of children.
A judge at the High Court in Edinburgh described it as an "extraordinary" campaign of abuse.
Fraser was jailed for a total of 10 years and two months and put on the sex offenders register indefinitely.
Lord Beckett told him: "You have an enduring sexual attraction to young girls on which you have acted repeatedly."
Guilty pleas
He said Fraser had engineered opportunities to have access to children and planned how he would initiate his crimes and cover it up.
He added: "Notwithstanding your age you were still committing acts of abuse in 2015 and accessing indecent images of children in 2016."
As well as jailing Fraser, Lord Beckett ordered that he be kept under supervision for a further four years for public protection and warned him that if he failed to comply with licence conditions he could be returned to prison.
The judge said that he took into account that Fraser's guilty pleas had spared victims having to give evidence at a trial.
He had originally faced a total of 55 charges but pled guilty to 17 charges of indecent behaviour, sexual assault and possessing and downloading indecent photos.
He abused 12 girls between 1991 and 2015, with his youngest victim aged just six. He got some of the children to pose for him and abused others while they were sleeping.
Advocate depute Stephen McCloy said Fraser was well known in his community and was allowed to look after children by their parents.
But he said that in June last year police received information that he was in possession of indecent images of children and a search warrant was granted for his home.
The prosecutor said: "Police were able to identify a number of the females in the images and were able to identify the accused due to his distinctive tattoos."
No recollection
The footage and photos of his abuse were recovered from computer equipment, on which was found more than 110,000 indecent still images of children and more than 1,000 pieces of footage.
The court heard that one victim had no recollection of the abuse taking place but on being shown a photo estimated that she was aged 13 at the time it had been taken.
Defence counsel Shelagh McCall QC said that Fraser had told her that he was a paedophile and needed help.
She said a background report prepared on him suggested he was not entrenched in denial but that there were the beginnings of an opportunity to address his behaviour.
Det Insp Robin Ferguson described it as "probably the largest sexual offence investigation" encountered in Dumfries and Galloway.
He said the nature of Fraser's behaviour had gone unnoticed in the community due to the "relationships he built up with family and friends of the victims".