Yarn-bombers stage second strike in Selkirk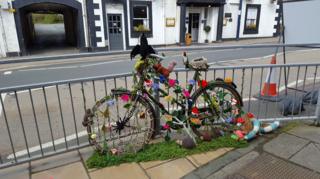 A group of yarn-bombers has struck for the second time in colourful fashion in a Borders town.
The knitting and crochet enthusiasts of the Souter Stormers prepared their "woolly surprises" along Selkirk High Street.
Kay Ross from the group described it as their "most ambitious project" to date.
Central to the Fully Woolly scheme is a pop-up shop on the High Street which has been taken over for the month of September.
Ms Ross said: "We are delighted to have the collaboration of many people and businesses in the local community in a great show of solidarity for the project."
Visitors can walk into a knitted living room of carefully crafted woolly furniture, books, rugs, flowers in vases and even a fish tank and a bird cage.
The Fully Woolly trail has put knitted or crocheted items in every shop and business window, mostly related to the nature of each particular business.
The Souter Stormers said they decided to undertake the project in aid of charity after the "amazing reaction" to their efforts in 2015.
All funds raised will go to Fresh Start Borders which offers start up packs for those who have been made homeless and are moving into a new home, and Knit Aid - a charity which knits for refugees who have fled to Europe.