'Wrong suitcase' picked up on bus was full of drugs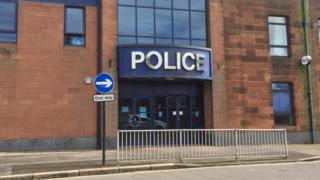 Police are looking for the owner of a suitcase packed with drugs which was "misplaced" on a bus in Dumfries.
It was mistakenly picked up by another passenger, who handed it in at the local Tourism Information Centre when he realised it was not his case.
Staff noticed a strange smell and took it to police, who found that it contained drugs worth about £6,500.
Officers have taken to social media to suggest that the owner should "pop in" to the local station and claim it.
"Were you a bit wasted last night?" they asked in a Facebook post.
"Did you misplace a suitcase with £6,500 worth of drugs in it? Great news, it's been found and we have it at Dumfries Police Station."
"Just pop in, tell us what's inside it, where you left it and we will be happy to return it to you!" the post continued.
However, it later added: "You will be arrested and will only get the empty case back after the court case."
The suitcase was accidentally picked up by the passenger as he got off the National Express bus from London at the Whitesands in Dumfries on Tuesday morning.
He thought it was his case, but handed it in after quickly realising that he had the wrong one.
Meanwhile, bus station staff say a man appeared there to ask about a missing case.
They said they did not have it and referred him to the police station - where he has so far failed to appear prompting the police appeal for him to come and claim it.
PC Alistair Hope said: "We have reports of a young man, described as being in his mid 20s, fair hair, wearing jeans and a horizontally striped fawn coloured top with a Scottish accent making enquiries in the area of the Whitesands in Dumfries about his missing suitcase.
"We would like to identify this man in relation to this investigation.
"Anyone who may have been in or around the Whitesands on Tuesday morning is asked to call us at Dumfries on the 101 number if they can help us identify this man."