Jim Clark Rally fatal crash response 'tremendous'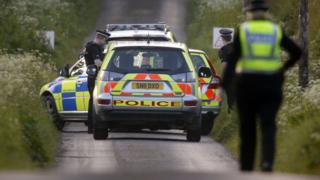 An inquiry has been told the response of emergency services to a crash in which three people died at the Jim Clark Rally in 2014 was "tremendous".
It heard that rescue vehicles and a doctor were at the scene within four minutes of a message reaching the event's headquarters.
Chrystopher Worboys, 63, was radio controller at the HQ at Kelso racecourse on the day of the crash.
He was giving evidence at an ongoing inquiry at Edinburgh Sheriff Court.
It is looking into the circumstances of the deaths of Iain Provan, Elizabeth Allan and Len Stern at the Borders event and that of Joy Robson at the Snowman Rally near Inverness in 2013.
Mr Worboys told the hearing how at 16:08 he had received a message that people had been struck on the Swinton stage and medical attention was required.
Marshals, using yellow flags, slowed down cars on the road and at 16:12 the emergency vehicles and a doctor were at the site of the accident.
At 16:16 all competitors were instructed to leave the area and at 16:20 another doctor arrived along with an RAF Rescue helicopter and five minutes later further doctors were in attendance.
Advocate depute, Andrew Brown QC, asked Mr Worboys: "Do you have any comment on the response?"
"It was tremendous," he replied.
The inquiry also heard from James Elliot, 52, who was a marshal at Swinton crossroads.
He told the court that after an earlier accident the number of spectators arriving at the Swinton stage "increased big-time".
In the morning stage at the crossroads, there had been about 12 spectators, but he soon had over 100 and he said people were ignoring tapes and barriers.
He said he heard the spectator safety car telling people to go back, but as soon as it left, people started moving further down.
Mr Elliot said: "The first I knew something had happened was when a guy said there's a car blocking the road."
He sent his son further up the road to stop other vehicles.
He and his son then walked down to the other end of the stage, past the crash scene, where he saw the two young marshals at the site who were "distraught".
The inquiry continues.