Borders landmarks set to turn blue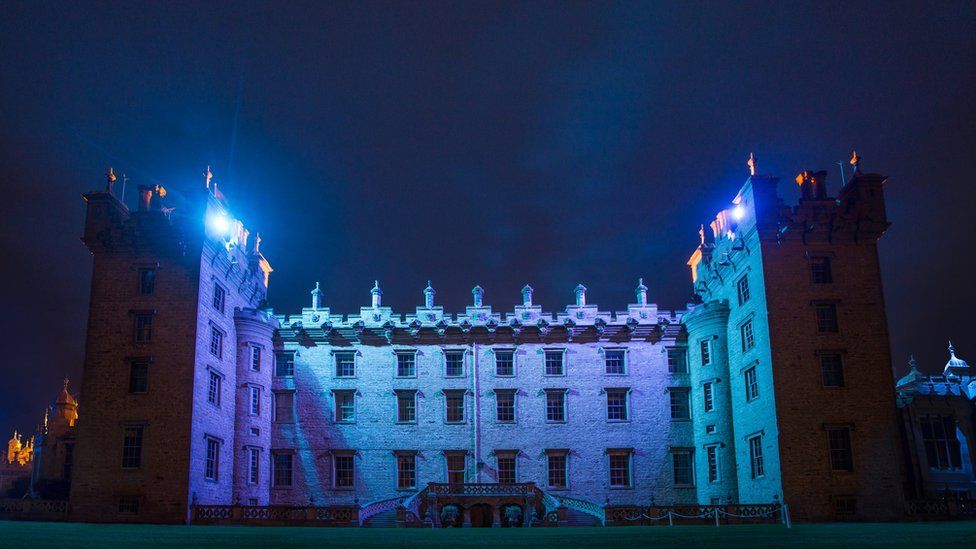 A string of historic sites across the Scottish Borders are to be turned blue to open the region's heritage festival.
They will be lit up for three nights from 1 to 3 September.
Lighting the Borders is a "signature event" for Scotland's year of history, heritage and archaeology.
It will kick off the Scottish Borders Heritage Festival (SBHF) which runs throughout September and includes more than 200 events taking place across the region.
Among the sites being lit up are Floors Castle, Ayton Castle and Neidpath Castle.
In order to light Floors Castle, Scotland's largest inhabited castle which is located near Kelso, every shutter will be closed and special film placed over the floodlights.
It will be the first time the castle, the home of the Duke and Duchess of Roxburghe, has been lit in this way.
Roddy Jackson, Roxburghe Estate factor, said they were "thrilled" to be involved in the opening event.
"Promoting the unique history and heritage of the Scottish Borders is an integral part of our business and we welcome the opportunity to further this aim through inclusion in the regional SBHF programme," he said.
VisitScotland regional director Paula Ward said the event could give "wonderful recognition of the unique and spectacular heritage we have right here on our doorstep".
Euan Jardine, Scottish Borders Council's executive member for culture and sport, added: "Lighting the Borders is an incredible opening to this year's SBHF and will truly capture the attention of local people and visitors.
"A chain of light will be formed across the landscape at dusk each evening linking these historic sites, re-enacting the lighting of signal fires from the time of the Border Reivers."
Live Borders chief executive Ewan Jackson said events were planned at the sites in addition to the lighting element.
"This will highlight in so many ways the rich history, heritage and archaeology of the Scottish Borders," he said.
"We hope to welcome visitors from across Scotland and beyond for the start of the SBHF, and right throughout September at the numerous events taking place."
Anyone attending the events and capturing the unique lighting of sites has been encouraged to share their images using the hashtags #BheritageF17 and #HHA2017.
Related Internet Links
The BBC is not responsible for the content of external sites.