Jim Clark Rally inquiry spectator thought he was 'safe'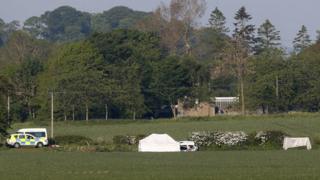 A man injured in an accident at the Jim Clark Rally in 2014 which killed three people has told an inquiry he thought where he was standing was "safe".
Donald Martin said he heard a "rushing sound" before being hit by an out-of-control car, leaving him badly hurt.
He said he was with his son, friend Len Stern and sister-in-law Elizabeth Allan behind a taped-off area which he believed indicated it was safe.
A fatal accident inquiry is being held into the incident at the Borders event.
Ms Allan, 63, her partner Iain Provan, 64, and Mr Stern, 71, died at the rally in May 2014.
A joint fatal accident inquiry is examining the circumstances surrounding their deaths and the death of spectator Joy Robson, 51, at the Snowman Rally near Inverness the previous year.
'Something's going to happen'
The inquiry heard that before the accident, Mr Provan joked about the risk of where he was standing, saying: "You won't know until it hits you."
Giving evidence at Edinburgh Sheriff Court, Mr Martin, 64, a motorsport fan since his 20s, said: "I would not stand in what I would consider a dangerous area.
"If there's tape across an area, as long as you stand back that's a safe area.
"If it is not suitable for spectators there should be a prohibited sign."
He said course marshals moved spectators into the area where he was standing at the Swinton stage - on the edge of a field overlooking a humpback bridge - before the accident happened in the afternoon on 31 May.
He said all the spectators were standing behind the tape apart from Mr Provan, who was photographing the rally.
Mr Martin told the inquiry he became "worried" when the stage started and a car appeared to slightly lose control and swerve towards where he stood, so he moved back.
'Good position'
Describing the crash a number of cars later, he said: "I started to run and my son Andrew did the same.
"Something in your mind goes that something's going to happen here.
"All I heard was a rushing sound and then I was hit and I was face down in the field."
He had seven fractured ribs, a bleed on his lung and extensive damage to his right leg.
Mr Martin's son Andrew also told the inquiry he felt "safe and in a good position" as "the tape told me that it was a safe area to stand".
The 27-year-old said spectators where he was standing were told to move back slightly by a safety car as there was a ditch in front of them, and Mr Provan was told to move behind the tape but later moved back in front of it.
'Get out of there'
Andrew Martin said this "annoyed" him and he spoke to Mr Provan about the risk of being hit, and the 64-year-old replied: "You won't know until it hits you."
The electrician said when the stage started he began to feel unsafe as cars became airborne going over the bridge and swerved, and he had picked out an escape route.
He said: "After I saw the car land and the front wheels dug in and it started shooting towards me, that's when I knew it was time to get out of there.
"I just jumped and ran as fast as I could.
"I turned round and looked for my dad. I was standing but he was holding his side and then he collapsed."
He said another spectator told him Mr Stern had died but he was not aware at the time of what had happened to Mr Provan or his aunt.
Another witness, Susan Betts, 68, who lives near the rally course in Swinton, witnessed the collision.
She said: "There was an unmistakeable sound. You knew it had hit people and there was debris."
She said she spoke to a man who appeared to be in shock.
"He was quite distressed. It was all a bit garbled and he said 'there's been a massive fall out.'
"I asked him what he meant by that. He said that there was a massive fall out between the two parties who organised the rally."
Mrs Betts also heard the young man shouting: "Oh my God! Oh my God! We didn't have enough marshals."
Mrs Betts's husband Geoffrey, 65, told the inquiry that after the accident he saw a young marshal with his hands on his head.
"That was the first marshal I had seen," he said.
The inquiry continues.