Kirkcudbright art gallery secures support for key collection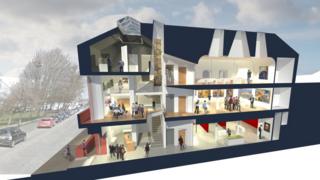 A new art gallery being built in southern Scotland has secured funding to put a nationally significant collection of works on show.
Museums Galleries Scotland (MGS) has made the £60,000 award to the Kirkcudbright project.
It is one of 15 schemes across the country to benefit from more than £600,000 of support.
The Dumfries and Galloway funding will allow the Kirkcudbright artists collection to go on display.
It includes more than 300 works of fine art and 80 works of decorative art and craftwork connected with the development of the town as an artists' centre.
Highlights of the collection, much of which is currently in storage, include paintings by Edward Atkinson Hornel, Charles Oppenheimer and Samuel Peploe.
Other projects to benefit from the latest round of funding are:
Kilmartin Museum Company (Argyll and Bute) - £40,000
MacDougal of Dunollie Preservation Trust (Argyll and Bute) - £40,000
Scottish Maritime Museum Trust (Dunbartonshire) - £39,000
University of Dundee - £5,877
Almond Valley Heritage Trust (Edinburgh and the Lothians) - £50,000
University of St Andrews (two projects) - £120,000
Glasgow Life, Glasgow Museums - £41,250
National Trust for Scotland (Glasgow) - £40,000
Royal College of Physicians and Surgeons of Glasgow - £29,230
University of Glasgow - £60,000
Gairloch Heritage Museum Trust (Highlands) - £40,000
Biggar Museum Trust (Lanarkshire) - £28,663
Argyll and Sutherland Highlanders Regimental Trust (Stirling) - £40,000
MGS chief executive Joanne Orr said: "MGS is pleased to be supporting projects that will contribute to the long-term sustainability and resilience of these museums.
"The awardees have demonstrated a real commitment to enterprise, skills development, and improving their offering and profile for future visitors."
Dumfries and Galloway Council's Andy Ferguson said the collection was "at the core" of the new gallery project due to open next year.
He said the council was "very proud" of its heritage and historic collections.
Culture Secretary Fiona Hyslop said she was pleased to see MGS increasing access to collections across the country.
"In particular, I welcome the award to Kirkcudbright, which will support the tourism ambitions for the south of Scotland and hugely benefit Dumfries and Galloway's cultural scene, attracting visitors from all across the country and strongly boosting the south of Scotland's economy," she said.