South of Scotland golden eagle project secures lottery funding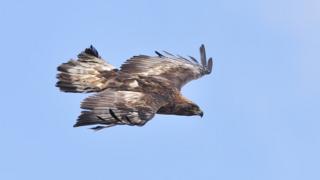 A project to boost golden eagle numbers in southern Scotland has had funding of more than £1.3m confirmed.
At present there are only between two and four pairs of the bird across Dumfries and Galloway and the Borders.
The South of Scotland Golden Eagle Project hopes to make them a "more common sight" throughout the area.
A study has shown that there is suitable habitat for somewhere between 10 and 16 breeding pairs across southern parts of the country.
Thanks to the Heritage Lottery funding, work will start on the project this autumn, subject to a licence application lodged with Scottish Natural Heritage being approved.
In summer 2018 and for the next four years it is planned to bring in between five and 10 young eagles from the Highlands.
They will be raised and released at a hidden location in the Borders.
---
'Secure footing in the south'
Environment Secretary Roseanna Cunningham said: "Many congratulations to all involved in gaining such tremendous support from the Heritage Lottery Fund. This will ensure golden eagles have a secure footing in the south of Scotland, and will bring huge benefits to the local economy and communities through a variety of tourism and educational opportunities. I commend the efforts of this special partnership."
Mark Oddy, chair of the South of Scotland Golden Eagle Project, said: "Golden eagles are arguably Scotland's most iconic species and this programme will ensure more of us can see these magnificent birds across the south of Scotland's skies. This venture is not just about birds, but is also about people, and in the coming months we will continue to work closely with people living and working in the south of Scotland so everyone can get behind our endeavour."
Lucy Casot, head of the Heritage Lottery Fund in Scotland, said: "We have some wonderful native wildlife in Scotland and collectively we have a responsibility for its survival. It is the prospect of glimpsing rare species, such as these glorious golden eagles, that attracts visitors to our shores bringing much-needed tourist income to our communities."
Project Manager Cat Barlow said: "We are thrilled to be given this excellent news. Once we have the full funding package in place we can crack on in employing the team to take the work forward. Then the really exciting work begins as we see more golden eagles and the people of south Scotland rallying to promote this wonderful area for wildlife."