Stripy sausage supports Melrose rugby sevens side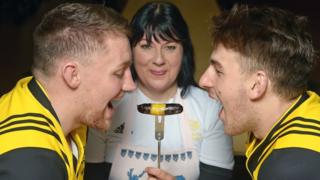 Members of a Scottish Women's Institute have created an unusual stripy sausage to support the home team at the Melrose 7s rugby tournament.
Langshaw SWI combined black pudding and pineapple to match the black and yellow club colours.
Lindsay Holmes said the game of rugby sevens had been invented by a local butcher and they wanted to celebrate that history.
The 126th edition of the Melrose 7s takes place in the town on 8 April.
"We already have the famous yellow and black Melrose tart, so we thought why not link up the history of the event with a black and yellow banger for the boys," said Ms Holmes.
"We made the sausages from black pudding, pork mince and pineapple.
"It took quite a few attempts to get the stripy effect but we think the sausages scream 'Melrose'."
Players from the club were invited to sample the sausages ahead of the competition.
Craig Jackson said: "Sportsmen and women are well known for their lucky talismans.
"The team last won the Aberdeen Asset Management Melrose Sevens in 2011 and we're hoping that these flamboyant bangers will be the lucky charm giving us the advantage to make us champions on home turf in 2017."