New additional support school opens in Earlston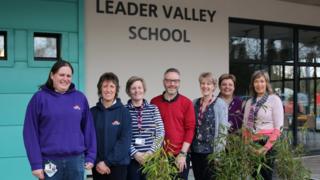 A new £1.7m school for pupils with profound and complex needs has opened in the Scottish Borders.
Leader Valley School in Earlston replaces previous provision at primaries in Hawick and Innerleithen.
Councillor Sandy Aitchison said it was an "extremely auspicious day" for everyone involved in the project.
He said the facility would be a "wonderful resource" not only for staff and pupils but also for parents and the wider community.
"Getting to this point has been quite a journey but this school is the result of our desire to provide the best we can for these children and parents and is certainly a project that I am particularly proud to have been part of," he said.
"I wish everyone well in the days and weeks to come as they settle in to their new premises and make it their own."
An open afternoon for the community is being held at the school on 28 February from 15:30 to 17:30.