Woman slapped in front of son at Kelso Co-op car park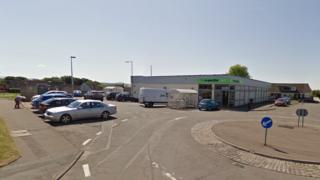 A 44-year-old woman has been assaulted in front of her son in a supermarket car park in the Scottish Borders.
The incident happened at about 16:30 on Monday outside the Co-op in High Croft in Kelso.
The victim was with her 12-year-old son when she was verbally abused and slapped in the face by a man she had earlier had a confrontation with.
Following the assault, her attacker left the car park in a large, black 2015 registration plate vehicle.
Police described him as white, aged 25 to 30, with a plump build, round face and short dark hair.
PC Alex Cain said: "This was a very frightening ordeal for the woman as it was witnessed by her son who became highly distressed and agitated after.
"I'm asking for anyone who was within the car park at the time and that can assist police with their inquiries to come forward."