Police recover body from River Nith near Dumfries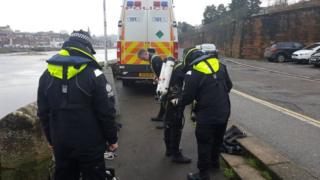 Police have recovered a body from the River Nith at Kingholm Quay, two miles south of Dumfries.
It is believed to have been spotted by a member of the public at about 09:30 on Saturday.
Searches of the river have been carried out since 41-year-old Bryan Cowie was seen in the water near Dumfries town centre on Sunday.
The recovery operation was carried out with the assistance of members of Nith Inshore Rescue.
A police spokesman said: "We received a report of a male's body lying within the River Nith near to Kingholm Quay, Dumfries about 9.30am this morning.
"With the assistance of Nith Inshore Rescue the body has been recovered and conveyed to Dumfries and Galloway Royal Infirmary.
"No further details can be released at this time."
A spokesman at Belfast Coastguards added: "We were asked to help assist police with the rescue of the body.
"We have no information about his identity at this time."