A7 stretch in Hawick to reopen ahead of schedule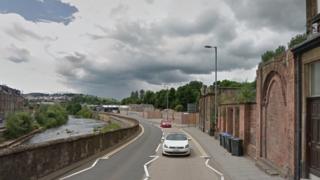 A stretch of the A7 through Hawick is to reopen ahead of schedule after being closed during part of the town's flood protection works.
The section of Commercial Road between North Bridge roundabout and Bruce Motors shut on 25 January.
It was to allow checks to be carried out with the closure expected to last for three weeks.
However, it is now expected to reopen on Saturday at noon, four days ahead of schedule.