Borders General Hospital cleanliness inspection 'positive'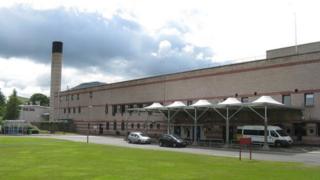 Equipment cleanliness standards at the Borders General Hospital are "generally good", inspectors have found.
The unannounced inspection in November last year was described as "positive".
The Healthcare Environment Inspectorate said staff had good knowledge of the aseptic technique designed to minimise the risk of infection.
NHS Borders said the report confirmed it was meeting required standards in relation to healthcare associated infections.
The visit was carried out on 16 and 17 November last year.
It examined NHS Borders' self-assessment information and then visited the hospital to meet patients and staff, and to inspect wards and departments to assess cleanliness.
'Minimise infection'
Claire Sweeney, interim director of quality assurance for Healthcare Improvement Scotland, said: "This was a positive inspection.
"The standard of patient equipment cleanliness was generally good.
"Staff had good knowledge of the principles of the aseptic technique which is a healthcare procedure designed to minimise the risk of infection."
Inspectors recommended staff should be made aware of the national facilities monitoring tool used by domestic services staff to identify any issues with the fabric and cleanliness of the building.
NHS Borders said the findings were, in general, "very positive".
Director of nursing, midwifery and acute services Evelyn Rodger said: "This inspection report confirms that we are meeting the standards required of us in relation to healthcare associated infections."
'Hard work'
She said it was particularly pleasing that staff had shown a "sound knowledge" of clinical practices.
"This knowledge is underpinned by the strong working relationship and accessibility of our infection prevention and control team which staff also described," she said.
"Several areas for learning and improvement are also identified in the report.
"We welcome this feedback and have focused attention on these areas."
Associate medical director Dr Cliff Sharp said the inspection reflected the "hard work and dedication" of staff.
"I would like to take this opportunity to thank everyone who is involved, every day, for all their hard work, attention, care and co-operation," he said.
"In less than a week I will be taking up the reins as medical director for the board and I am committed to ensuring that our patients continue to receive the best possible care and are confident that our wards reflect that commitment.
"Our focus must continue to be on sustaining the high standards that the inspectors observed, and progressing improvements."