Gatehouse of Fleet venue for first dark sky park conference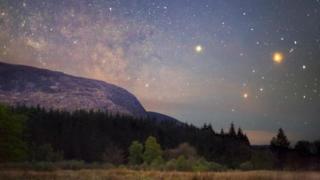 The first ever dark sky park conference to be held in Europe is to be staged in the south of Scotland.
The event - from 20 to 23 September - will take place in Gatehouse of Fleet in Dumfries and Galloway.
The nearby Galloway Forest Park was the first area in Europe to achieve dark sky park status.
Organisers said they hoped it would further help to cement south west Scotland's reputation as a premier destination for stargazing.
The conference will bring together some of the world's top dark sky experts with the aim of promoting rural development, tourism and tackling light pollution issues.
Astronomers, town planners, lighting specialists, environmentalist and academics will attend to discuss the benefits that dark sky status can bring.
The conference is being organised by Galloway and Southern Ayrshire Biosphere (GSAB), the International Dark Sky Association (IDSA) and Forest Enterprise Scotland (FES), which manages the Galloway Forest Dark Sky Park.
FES visitor services manager Keith Muir said: "Galloway Forest Park was the first area in Europe to achieve dark sky park status and we are keen to share our experience and learn from others by being the first in Europe to host such a major conference.
"This is really good news for putting the south west of Scotland on the map as an international stargazing destination.
"All the partners involved will be working together to ensure the conference is a success and showcases Galloway as a great place to live, work and play.
"We're very excited about this major event and the potential spin offs it should create for the local economy."
'Global effort'
Joan Mitchell, who chairs GSAB, agreed it could be a big boost for the area.
"Hosting Europe's first ever dark sky park conference is a fantastic opportunity to help put this often overlooked corner of Scotland on the map," she said.
The event has also been welcomed by IDSA programme director John Barentine.
"It is a testament to the momentum behind the global effort to recognise and protect dark skies worldwide that this international conference is to be held," he said.
"Further, it is especially fitting that the event will be held near Galloway Forest, where it can be said the movement scored its first major victory for dark skies preservation in Europe.
"The IDSA is proud to have a seat at the table for this important gathering."