Kirkcowan wind turbine visual harm 'significant'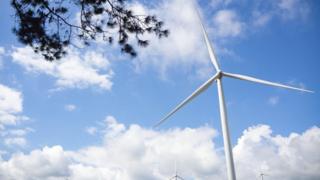 A Scottish government reporter has refused planning permission for a 12-turbine wind farm in Galloway.
He ruled the Shennanton project north of Kirkcowan would have a "significant adverse impact" on the landscape.
Brookfield Renewable had appealed over Dumfries and Galloway Council's failure to determine its application.
The reporter said the significant local support and boost for renewable energy targets did not outweigh the harm to the character of the area.
Last year the project generated 149 separate representations to the council - 91 in favour and 58 against.
Planning officers had recommended refusal due to concerns over the impact on the landscape.
It was scheduled to be considered at a meeting in February 2016 but councillors were told it was the subject of a non-determination appeal to the Scottish government.
That appeal has now been dismissed and planning permission turned down.