Ettrick Shepherd James Hogg's school to close for good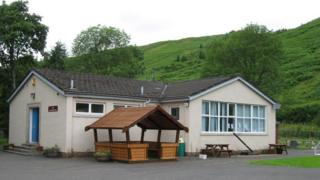 Plans to permanently shut a school once attended by the Scots writer James Hogg are to go out for consultation.
Ettrick Primary in the Scottish Borders dates back to 1725 but was mothballed in 2012 after no pupils enrolled for the new term.
Hogg, known as the Ettrick Shepherd and the author of The Private Memoirs and Confessions of a Justified Sinner, began his education at the school.
Closure consultation will run from 6 February to 24 March.
Hogg was born in the Borders in 1770 and lived and worked in the region for most of his life.
He was only able to attend the school for a few months because of his father's bankruptcy and was largely self-educated through his reading.
A public meeting on plans to shut the school will be held on 22 February at Ettrick Village Hall.
'Settled well'
Sandy Aitchison, Scottish Borders Council's executive member for education, said the decision to shut a school permanently was "never taken lightly".
He said a "wide range of important and valid factors" were taken into account.
"When Ettrick Primary was mothballed in 2012, it was done because there were no pupils enrolled for the commencement of the school year," he said.
"Since then any pupils living in the catchment area attend Kirkhope Primary where they have all settled well.
"We would therefore ask all interested parties to consider this proposal carefully and provide their feedback by taking part in the consultation."
The outcome of the statutory consultation will be presented to the council in June 2017.