Triple Dumfries and Galloway road accident witness appeal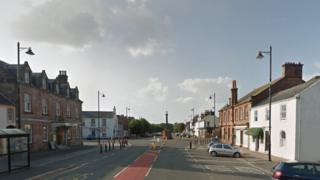 Police are seeking witnesses to three separate road accidents across Dumfries and Galloway.
The first took place on 23 December when an 86-year-old man was struck by a car in Thornhill leaving him with a broken collar bone and ribs.
The second involved two cars travelling on the Lockerbie Road in Dumfries on Tuesday afternoon.
A final appeal has been made after a man and his dog were hit by a car near Cuckoo Bridge in Dumfries on Tuesday.
The Thornhill incident took place on Drumlanrig Street at about 11:50 when the pensioner was crossing the road.
He was hit by a gold VW Golf being driven by a woman who did stop but did not leave her details.
The man required overnight treatment in Dumfries Infirmary and police want to speak to anyone who helped him as well as the driver involved.
The second crash saw a 51-year-old woman's silver Vauxhall Astra hit from behind at about 16:30 on the Lockerbie Road in Dumfries.
Dog injured
She pulled into the car park at Tarff Town and Country and expected the other driver to do the same but they did not.
The woman was not injured however damage was caused to the rear of her car as a result. Police want to trace the driver of the other vehicle involved.
Finally, a 31-year-old man and his teenage son were walking their dog near Cuckoo Bridge at about 21:00 when they tried to cross the road at a pelican crossing.
The man and dog were struck by a silver car, possibly a Vauxhall Astra, coming from the nearby retail estate.
The man was unhurt but the dog suffered a cut which required treatment from a vet.
PC Adam Watret said: "Whilst the driver of the silver car stopped momentarily, the driver did not alight from his vehicle nor converse in any way with the pedestrians.
"We would like to hear from anyone who may have witnessed this incident, and in particular to a female driver of a yellow coloured Citroen Cactus car who stopped to offer assistance.
"We would also like to hear from the driver of the silver coloured car as well in order to clear this matter up."