Legal advice sought over Drummore harbour's future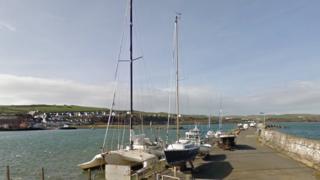 Expert legal opinion is to be sought to help take forward community ownership plans for a Wigtownshire harbour.
The sale of the port at Drummore is subject to a restriction because of an outstanding damages claim against the previous owners.
Kirkmaiden Community Harbour Trust has indicated it would like to buy it for the benefit of the local community.
Dumfries and Galloway Council is being advised to seek legal advice before any purchase takes place.
Drummore harbour was owned by the Ministry of Defence for more than 70 years before being sold in 2004 to a charitable trust which had plans for a yachting marina.
However, an accident subsequently occurred resulting in substantial financial damages being awarded against the group.
Implications 'unclear'
All of its board members resigned and the trust was removed from the companies register and the charities register leaving the harbour ownerless.
As a result, the property - including the seabed - was transferred to the Crown.
A report to Dumfries and Galloway Council said the financial award against the old trust was still outstanding and as a result a title restriction had been put on the property.
It said it was "unclear" what the implications would have on any sale and advised using about £5,000 to get expert opinion.
A further £1,000 will be allocated to Kirkmaiden Community Harbour Trust to seek independent legal advice.