Passenger left shotgun on train in Dumfries station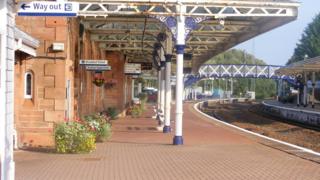 Police were called out after a passenger left a shotgun on a train at Dumfries station.
The owner of the firearm alerted ScotRail about the situation shortly before 09:00 on Monday after getting off the train in Annan.
It was subsequently located by a member of staff and then handed over to the police.
A British Transport Police spokesman said the gun had been returned to its owner who had been given a warning.
A ScotRail Alliance spokesman said: "We take the safety of all our passengers very seriously.
"The shotgun was immediately located and handed into police custody at Dumfries station."
A Police Scotland spokesman said: "The owner of the gun immediately realised his mistake, alerted train staff and the gun was secured and handed over to police at Dumfries.
"There was no threat to public safety."