Sir Chris Hoy helped out by gritter driver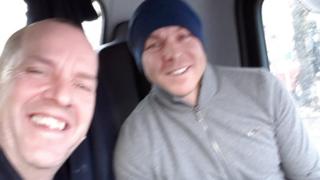 A Dumfries and Galloway Council gritter driver stopped to help out Olympian Sir Chris Hoy after his car got stuck in a snow bank.
Stevie Fallon went to the assistance of the six-times gold medallist after the accident on the A701 north of Moffat.
He gave him a lift in his gritter back to Moffat where they were able to arrange recovery of the vehicle.
The cycling champion later tweeted his thanks and confirmed there had been no harm to himself or his car.
Sir Chris confirmed that his car had hit black ice and ended up in the snow bank near Greenhillstairs on Thursday afternoon.
'All heroes'
"Thanks 2the kind gent who towed my car out of a snow bank today after I hit black ice," he tweeted.
"Thankfully no harm to me or car but be careful folks!"
A Dumfries and Galloway Council statement said: "We believe all our gritter drivers are heroes, out in all conditions, day and night.
"We are pleased to hear that in this case Steven went beyond his usual duties and picked up Sir Chris Hoy from the side of the road at Greenhillstairs and took him back to Moffat to arrange recovery of his vehicle.
"Due to insurance regulations we could not assist with the recovery of Sir Chris's vehicle ourselves, but we wish him well and a safe journey home."