South of Scotland enterprise agency bid studies Highlands lessons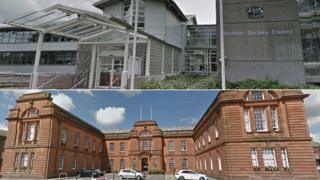 A fact-finding mission to the Highlands is to be carried out ahead of the creation of a skills and enterprise agency for southern Scotland.
It will involve the local authorities in Dumfries and Galloway and the Scottish Borders.
They hope to see what lessons can be learned from the Highlands and Islands Enterprise (HIE) model.
The Scottish government proposed the creation of a new service for the south of Scotland late last year.
Dumfries and Galloway Council Chief Executive Gavin Stevenson said the area's rural economy had specific challenges which he felt could not be addressed at a national level.
'Fantastic opportunity'
He said there was important information which could be gained from examining the experience of HIE.
"We can learn the lessons from a body that has been around 20 years - what to do quickly for quick wins and also what areas weren't quite as successful," he said.
"We will be working with our colleagues in the Borders as one team going up there and looking to see if we can get the best for our region.
"We are all aware of the challenges facing the south of Scotland which are mirrored across in the Borders.
"I think the government has given us a fantastic opportunity to shape the future - to design a body that can support our small businesses, our social enterprises and our communities."