Permanent home for Great Tapestry of Scotland selected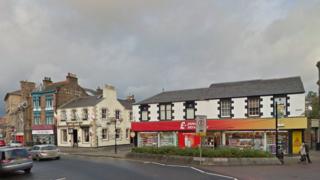 A permanent home for the Great Tapestry of Scotland in the Scottish Borders is to be built in Galashiels.
Councillors voted in favour of the location for the project at a total cost of about £6.7m.
It will see the town's post office brought back into use, a former Poundstretcher store demolished and a new building erected.
Scottish Borders Council had originally selected Tweedbank for the project but agreed to change location.
The decision brings to an end a long-running debate over the scheme.
A site at the terminus of the Borders Railway had been selected but that was before the Galashiels option emerged.
Since then, the local authority has examined both locations and had been advised to select the project which was seen as having greatest regeneration potential.
The Scottish government will contribute about £2.5m towards the scheme and Scottish Borders Council has earmarked £3.5m.
That leaves a funding shortfall of about £700,000 for the Galashiels option, but it is hoped that other organisations will provide support.
Public opinion in the region remains divided over the benefits of the project.
Community group Energise Galashiels said it could be a "game-changing boost to the town".
However, others have criticised the level of spending on the scheme at a time when local authority budgets are under considerable pressure.
---
'A national treasure'
Council leader David Parker said: "I am delighted such a nationally and internationally important arts project is coming to the Borders. The Galashiels option provides greater flexibility for educational and community uses within an affordable, deliverable and well located site. It means a world-class tourist attraction can be provided in this town centre location, close to the new Borders Railway and benefiting from excellent road links."
Councillor Stuart Bell said: "I am pleased we can now progress with the Great Tapestry of Scotland, which also has the backing of the Scottish government. There has been plenty of discussion about the merits of the tapestry, but there is evidence of real economic benefits from the project, which was credited with quadrupling visitor numbers at a Dundee museum when it was displayed earlier this year."
Culture Secretary Fiona Hyslop said: "I welcome today's decision by Scottish Borders Council, which opens up the ambitious prospect of a new home for the Great Tapestry aligned with the broader tourism, regeneration and community benefits to Galashiels and beyond. The Scottish government continues to earmark £2.5m for this project and I look forward to seeing progress with the next stages of its development."
Co-chairman of the tapestry trustees Alistair Moffat said: "Feelings and opinions about the Great Tapestry of Scotland are sharply divided - not between like and dislike but between those who have seen this remarkable work of art and those who have not. No-one who sees its panels can fail to be moved, amused, intrigued and delighted by them. In only three years, it has become a national treasure. To see this magnetic, wonderful object housed in Galashiels will fill me with pride as a Borderer and its popularity will help regenerate this once-great textile town."
Councillor Watson McAteer said: "The Borders public have been landed with this. The story that the Borders people tell us is that they don't want it. I am really disappointed. I think we have got a long time to manage the debt and I am not convinced that we will get the visitor numbers that will then move on and benefit other parts of the Borders."