Dumfries man avoids jail over indecency offences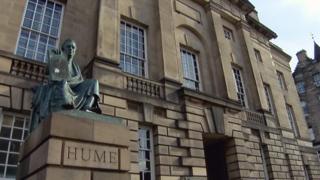 A Dumfries man has avoided jail over indecency offences committed against two young girls more than 30 years ago.
Peter Carmichael, 52, was aged 13 when the offending began in 1977 and his victims were aged six and eight.
He was convicted of using lewd and indecent practices and behaviour towards the girls but acquitted of a further charge of raping one of them.
He was ordered to carry out 300 hours unpaid work and put on the sex offenders register for three years.
The High Court in Edinburgh heard the offences had taken place on various occasions between 1977 and 1981 in the village of Lochmaben.
A judge told Carmichael that the offending occurred at a time when he was aged between 13 and 17 and was himself a child.
'Worthy of note'
Lady Carmichael said that although the charges he was found guilty of by a jury were serious they were less serious than the charge he was acquitted on.
The judge said that she took into account his age and immaturity at the time of the offending and added it was "worthy of note" that no further offences of a similar kind had occurred for more than 30 years.
She said Carmichael had maintained a good work record and she was prepared to make an exception and deal with the case with a non-custodial disposal.
The judge told him that she would impose a community payback order under which he would carry out 300 hours unpaid work as a direct alternative to custody.
She said he would be under supervision for three years and he was also placed on the sex offenders register.