Dumfries project sees offenders help provide winter warmth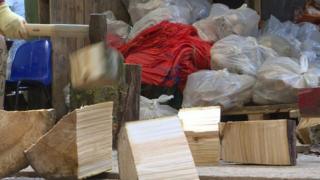 Convicted offenders in Dumfries are chopping and delivering firewood to more than 300 elderly and vulnerable people across the region.
The criminal justice project is being held up as an example of how community payback orders can be used.
The winter warmth scheme was inspected recently by Justice Minister Michael Matheson.
He said it epitomised what community payback orders, an alternative to prison, were designed to achieve.
"Community payback orders are a very robust way in which we can tackle the offending behaviour of individuals within local communities," he said.
"They provide a whole range of options to tackle offending behaviour.
"A key part of community payback orders is to make sure we have got robust community-centred provision and at the same time also tackling the causes that drive offending behaviour in the first place."
He said the Dumfries project was a "very good example" of that in action.
He said it saw offenders "paying back some good" to the local community while at the same time "tackling the underlying causes that drive their offending behaviour".
The winter warmth project has been firmly endorsed by Maureen Thin-Smith, one of the many beneficiaries of the scheme.
"It is quite valuable because coal and anthracite is very dear," she said.
"The boys are very nice, they have got to do something and they are better doing this than sitting in a prison cell as far as I am concerned.
"They get more out of doing this and helping folk."
One of the offenders, Chris, said the scheme had made a real difference to him.
"I think the project is brilliant, basically it is sort of my turning point," he said.
"You are bringing your life from doing crime into doing good - helping the elderly, keep them warm over the winter and such like."