Dumfries town centre future views sought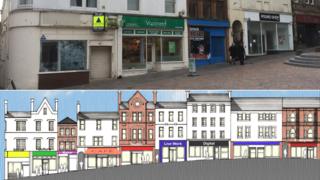 A survey is seeking public input into plans to regenerate the historic centre of Dumfries.
Last month the community-led Stove Network put initial plans on show of how to "breathe new life" into the area around the town's Midsteeple.
It was designed as a response to the number of shop closures in the area in recent months.
Now the group has started on online survey to gather public opinion on the best way forward.
It hopes to find the actions which "can shape a vibrant Dumfries High Street".
Among the areas it wants to assess are measures which could encourage more people to live or work in the town centre.