Toppled crane road closure required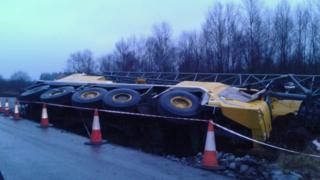 A Galloway road will have to be closed for a second time to allow for the recovery of a toppled crane.
The A712 between Newton Stewart and New Galloway was shut last week after the vehicle left the road.
It has since reopened but operations near Clatteringshaws to recover the vehicle have so far been unsuccessful.
A spokesman for Dumfries and Galloway Council said the road would have to close at some point over the next two weeks in order to remove it.