Borders Railway credited with college student surge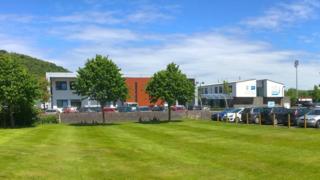 The opening of the Borders Railway last year has been credited with providing a rise in applications at a further education college.
Borders College said interest from potential students in Mid and East Lothian had gone up by 74% for 2016/17 compared with last year.
It is now liaising with an increased number of schools in the areas.
Marketing manager Cameron Reith said there was "no doubt" the railway had improved "ease of travel".
The main campus is in Galashiels which is a stop on the new railway, but the college also has sites in Hawick and Newtown St Boswells.
Clare Nairn, head of student services, said they would hope to see numbers travelling increase further as awareness of the railway and the college grew.
In terms of actual enrolments from the Lothians, the college saw an increase of 47% this academic year compared with the last.
'Positive impact'
Acting principal Heather Anderson said: "Borders College is amongst the top-performing colleges in Scotland.
"This along with some of the unique courses that we offer, for example mountain biking and gamekeeping, makes us the first choice for many students entering further education."
Danny Cusick of Scottish Enterprise, who chairs the Borders Railway Blueprint Group, added: "It's fantastic to hear that the railway is already creating new study options in the area, and is another great example as to how the Borders Railway is making such a positive impact across the entire region.
"As well as providing students with greater choice for their future development, the skills and career paths provided by Borders College and all education providers are essential for strengthening the local economy."
The ScotRail Alliance's commercial director Cathy Craig said it was "fantastic" to hear the college was attracting new students and the railway was "opening up new opportunities for learning".