Week's reprieve for Eskdale and Liddesdale Advertiser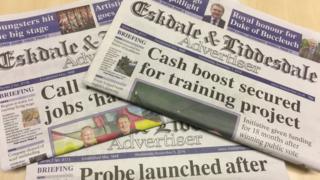 A 168-year-old south of Scotland newspaper which is earmarked for closure has been given a short reprieve.
The last edition of the Eskdale and Liddesdale Advertiser was due to be published on Wednesday.
However, the publishing company which owns the weekly has extended the consultation period by seven days.
The final edition is now scheduled for 21 December unless the paper can be sold for a "nominal amount".
The Eskdale and Liddesdale Advertiser was established in 1848 and has a circulation of about 1,200 copies in and around Langholm.
Last month, the CN Group announced plans to shut the paper leaving the three members of staff facing redundancy.
The company said that despite the best efforts of the team, the weekly edition had not been in profit for some time and launched a formal consultation on its closure.
At the same time, the publishing firm left the door open for a community benefactor to take over the Advertiser, which they said they would be prepared to sell for a nominal amount.
A spokesperson for the CN Group has now confirmed that the staff consultation has been extended by a week.